On April 19, the Polish educational mission UZBEKISTAN 2018 begins, the largest in the history of academic cooperation between our countries, which will last until April 27. We will be in the heart of Central Asia in good company, as 17 academic universities plus representatives of the Ministry of Science and Higher Education, Conference of Rectors of Academic Schools in Poland (CRASP) and Perspektywy Education Foundation have confirmed their participation, represented by a total of 38 people, including 12 rectors and vice-rectors. The program includes three cities - Tashkent, Samarkand and Baku - and combines visits to universities and academic "round tables" with participation in international educational fairs.
There are more and more students from Uzbekistan in Polish universities - in the academic year 2010/11 there was 52, and in 2016/17 there are already 355 (an increase of 27% compared to the previous year)! Demographic analyzes and the growing mobility of young Uzbeks indicate that this upward trend may continue and grow. Therefore there is need to increase activity of Polish universities on this market.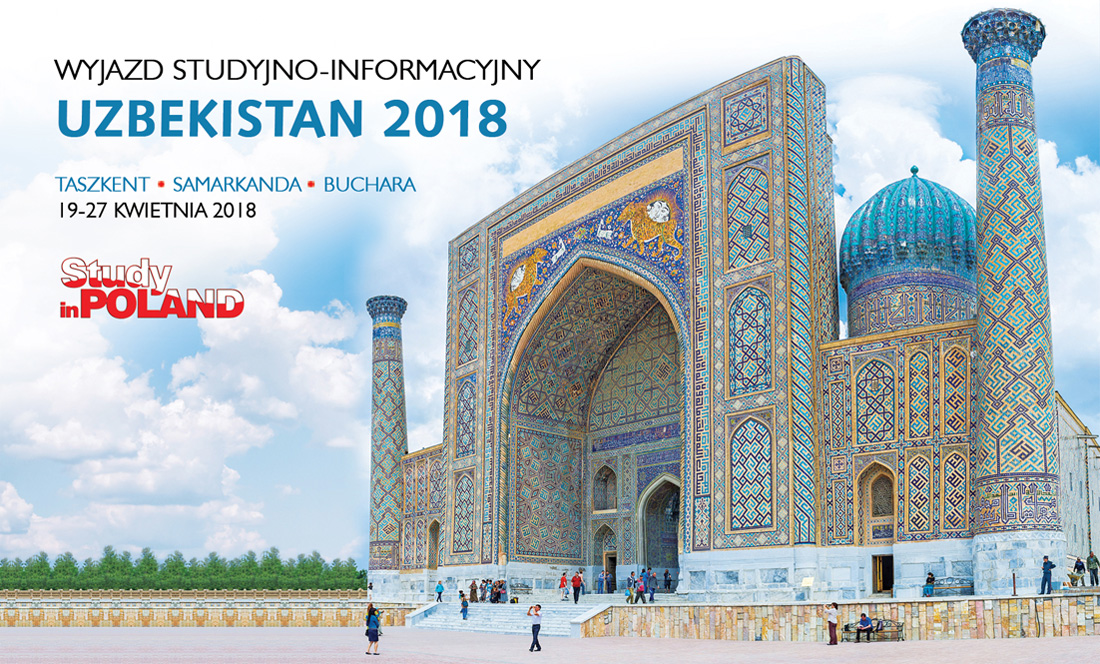 We have combined efforts - the trip is organized as part of the "Study in Poland" program run jointly by KRASP and the "Perspektywy" Education Foundation, and the substantive partner is the network of international cooperation offices of Polish academic public universities - IROs Forum. We are supported by the Department of International Cooperation of the Ministry of Science and Higher Education and the Polish Embassy in Tashkent.

It will be a hard-working trip, but we are convinced that the effects will be worth the effort put in by all partners! Remember, however, that Central Asia is a market for the patient and persevering, nothing happens there suddenly and immediately, but established contacts always pay off.
The following universities and institutions will be represented in Uzbekistan: Ministry of Science and Higher Education, Jagiellonian University, Nicolaus Copernicus University in Toruń, University of Lodz, University of Silesia in Katowice, Marie Curie-Sklodowska University in Lublin, AGH University of Science and Technology, Gdansk University of Technology, Silesian University of Technology, University of Bielsko-Biała, Wroclaw University of Science and Technology, Medical University of Gdańsk, University of Economics in Katowice, University of Agriculture in Cracow, Polish Japanese Academy of Information Technology, Collegium Civitas, University of Ecology amd Management in Warsaw, Wroclaw University, KRASP and Perspektywy Education Foundation.