On April 26, as part of the conference "Foreign students in Poland 2021", an online gala was held, during which the best foreign students in Poland were awarded. This is the eleventh edition of the competition for the best foreign student in Poland "INTERSTUDENT 2021". It is organized by the Perspektywy Education Foundation as part of the "Study in Poland" program, carried out jointly with the Conference of Rectors of Academic Schools in Poland (KRASP). Despite the pandemic, this year the organizers received a record number of applications from universities all over Poland - 140. We present the profiles of the winners.
Lara Maria Guedes Gonçalves Costa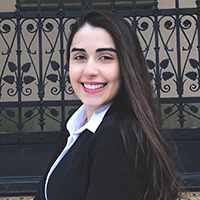 Interstudent 2021 - Undergraduate Studies
3rd year student of International Relations and Area Studies at the Jagiellonian University in Kraków. Laura is 8,000 kilometers away from her relatives - family and friends - she has not seen them for over a year. In Poland, she is not only an outstanding student, but also a person involved in promoting studying in our country and a devoted volunteer. - Poland has become my second home - says Lara. - I am grateful that I can be here, and all the activities I undertake are a form of gratitude for what I got in Poland.
Marlon Souza Luis from Canada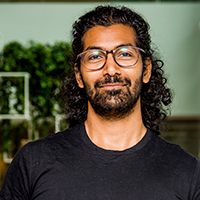 Interstudent 2021 - Master Studies
Marlon is a 6th year student of medicine at the Medical University of Gdańsk. He is thinking of specializing in cardiology. It's a good idea, because when you look at his activity, you can see that he has a big heart. Marlon devotes countless hours of his free time to engaging in educational, charity and social actions and projects. He runs, among others student educational project "Fun with English", teaching sick children and their parents English language through games and fun. He organizes charity campaigns for patients of children's wards in Gdańsk hospitals in cooperation with Tri-City companies and foundations, workshops for students.
Yash Chawla from India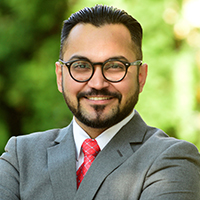 Interstudent 2021 – Doctoral Studies
Yash is a PhD student at the Faculty of Computer Science and Management at the Wroclaw University of Science and Technology. He has been an active member of the Wrocław University of Science and Technology community since his arrival in Poland in 2017. He conducts research, organizes scientific conferences, carries out important projects. Recently, he was recognized as the Best Young Researcher in the field of management and quality science at the Wroclaw University of Science and Technology for his publications in prestigious scientific titles. He visits schools and kindergartens in Wrocław as a volunteer, teaching children to be open to other cultures.
Aliaksandra Shmyk from Belarus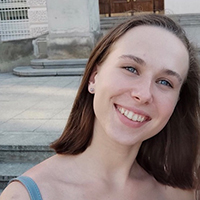 Interstudent 2021 – Special award for popularizing science and technology.
Aliaksandra is a 3rd year student in the field of automatics and robotics at the Warsaw University of Technology. Creating Mars rovers is one of Aliaksandra's passions. But on Earth, she has a lot of work to do: she takes part in scientific conferences and engineering competitions, organizes robotics workshops for children, and works at the Central Institute for Labor Protection. Aliaksandra designs and programs microprocessor sensor systems for the needs of research and development, as well as plans and conducts acoustic tests. Aliaksandra is also the coordinator of the Robotics Section at the Students' Space Association.
Deepjyoti Nath from India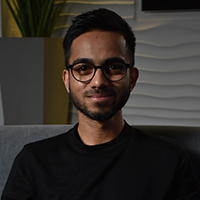 Interstudent 2021 - Special award for constructing a robot for disinfecting public spaces.
Deepjyoti is 3rd year student of Computer Science at the University of Lodz. As a 20-year-old, he founded his first startup - an online restaurant website. In times of a pandemic, he took up a completely different challenge: he developed and implemented a maintenance-free robot for disinfecting public spaces using UV lamps. According to many lecturers from the Faculty of Mathematics and Computer Science at the University of Lodz, Deepjyoti Nath is focused on developing his passions. The construction of a disinfecting robot that can be used in hospitals, laboratories and shops. The Deepjyoti project is a complex and technologically advanced project on the border of robotics, automation and artificial intelligence.