Maria Curie-Sklodowska University in Lublin
Uniwersytet Marii Curie-Skłodowskiej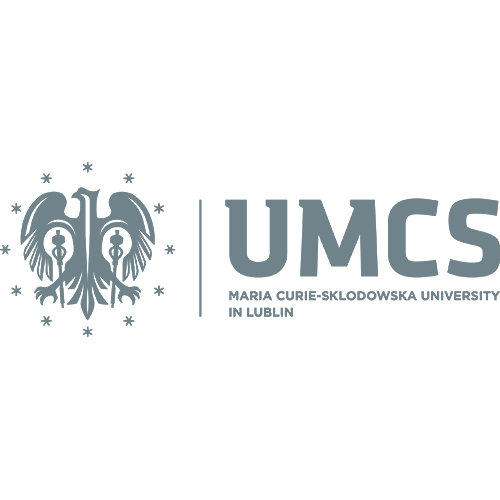 Maria Curie-Sklodowska University is the largest public university in Eastern Poland.
over 242.000 students have graduated from UMCS;
about 4 400 individuals earned PhDs;
over 1200 individuals completed habilitations.
Our university offers undergraduate (BA and BSc), graduate (MA and MSc), and 5-year Master programmes delivered on full time & part time basis. We also offer postgraduate and doctoral (third-cycle) programmes.
Nowadays, over 20 000 students attend over 70 undergraduate and 60 graduate programmes (including over 250 specialisations) in 12 Faculties.
UMCS also runs Foreign Languages Teaching Centre, Academic Sports Centre, Botanic Gardens, Polish Language and Culture Center.
Students' cultural life is focused around the Academic Culture Centre "Chatka Żaka" and the Media and Art Incubator consisting of radio and TV studios, an artistic stage as well as media laboratories for conducting classes. Every student can try their luck as TV presenters or Radio correspondents working for our University`s TV or Radio. Other important educational institutions include the Main Library with a large network of faculty libraries.
WHY UMCS:
great location: in Eastern Poland, close to the Ukrainian border, one of Poland`s largest cities with population exceeding 340 000, unique, beautiful Old Town and the The Chapel of the Holy Trinity
high quality of teaching based on European standards
competitive price: starting at 875 EUR per year
diploma issued by a state university recognized in the European education market
unique university campus, located in the city centre where various educational facilities, dormitories, sports and cultural centres as well as a network of student clubs are located
high-standard dormitories (students' former application is required)
professional guidance provided by International Students Office (speaking English, Ukrainian, German, Spanish and Russian)
Course of Polish language delivered free of charge in September to candidates for tuition-based programmes
specialized and general Polish language courses delivered free of charge in the first year of studying
scholarship opportunities
multicultural environment (over 1 700 international students)
international student exchange programmes
educational offer based on labour market demands, providing our students with practical skills
UMCS cooperates with your future employers
easy access to professional research staff and constantly modernized scientific and research facilities which can lead/inspire you to start your brilliant career
famous lecturers from all over the world deliver their lectures at our university
Our university continues to extend the range of its educational offer so as to be appealing for both Polish and foreign students.
Student Activities
No university can function without the active participation of its students. Through their participation in the Self-government of Students and Doctoral Students and their involvement in the activities of more than 100 scientific circles and student organizations, music and dancing groups, sports teams, they fulfil their passions and contribute to a very high position of the university on the national level in the areas of culture and sport. Students have regular access to the Physical Culture Centre where they can find: a swimming pool, gyms, pitches and courts. Sportsmen who represent UMCS achieve outstanding results in Academic Championships of Poland and national leagues. Students can choose among classes in around 30 sports sections which is the largest academic offer in the region.
Buildings of Faculty of Earth Sciences and Spatial Development and Information Technology Institute, both built with the support of European funds, constitute the showpieces of our university.
In order to assist foreign students, the International Students Office has been established.
Maria Curie-Skłodowska University cooperates closely with the local government and business.
Lublin is a city with a 700-year history full of events which changed Poland and Europe.
Lublin, despite being a large university centre, is characterized by a low cost of living as compared with cities in Central and Western Poland. Fees for accommodation in a UMCS dormitory range from PLN 280 to PLN 565 per month. The monthly cost of living in a private dormitory (in close proximity to the teaching buildings) or renting a room in a student flat is PLN 420 on average. The city's public transport (buses and trolleybuses) is not expensive as students pay reduced fares – PLN 1,60. Food prices in Lublin are also lower than in the largest cities in Poland.
Facts & figures
Established in 1944
1600 academic staff
Over 20 000 students
about 1700 foreign students
Contact
The International Studies and Students Office:
pl. Marii Curie- Skłodowskiej 5, Lublin 20-031, Polska
+48 81 537 58 80
rekrutacja.ua@umcs.pl
rekrutacja.ru@umcs.pl