University of Bialystok
Uniwersytet w Białymstoku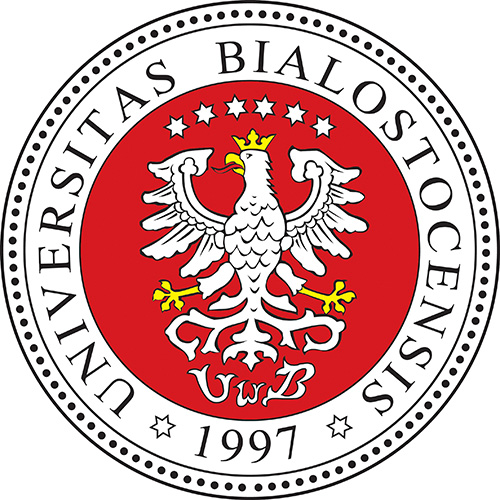 University of Bialystok was created in 1997 by transforming the former 29 – year old Branch of Warsaw University. Over the 20 years the University of Bialystok has become a dynamically growing institution of higher education, the largest in Podlasie, both in respect of the number of research workers, fields of study and forms of education offered as well as the number of students and graduates. In the year 2014 the construction of a modern and wellequipped campus for the students of natural and mathematical sciences was completed.
The University consists of nine faculties, including one located abroad in Vilnius. Classes and lectures are delivered by app. 783 academic teachers including more than 196 university and tenured professors. At present the University offers courses in 32 fields of study and over 70 specializations for app. 10 558 students within full-time and part-time programmes. The major fields of study offer unique and inter-faculty courses created to meet the social demand. The curricula are constantly developed and updated, with a special emphasis on their interdisciplinary character. The University offers as many as 70 different postgraduate courses. About 92 student scientific groups and organizations are active at the University.
In 2010, 2011 and 2012 the University of Bialystok was ranked third in the competition "The most innovative and creative institution of higher education in Poland". In 2011 the University was awarded the certificate "University of Leaders" by the Foundation for the Development of Education and Higher Learning. The competition promotes institutions of higher learning which invest in the job market-oriented education and care about the practical education of students.
The University is entitled to confer the university degree of doctor in economic, legal, physical, biological and chemical sciences as well as in humanities, that is in history, language studies, literature and pedagogy, and the postdoctoral degree of doctor habilitatus in law, economics, biology, history and chemistry.
The University is currently realizing about 74 agreements on scientific cooperation with partner foreign universities in: the Russian Federation, the USA, China, Great Britain, Romania, Japan, Belarus, Lithuania, Latvia, Ukraine, Switzerland, Czech Republic and Italy.
University of Bialystok guarantees a high level of didactic classes, a possibility of spending free time creatively by taking advantage of all University resources and participating in a widely understood student life.
Facts & figures
Established in 1997
1 foreign faculty in Vilnius
9 faculties
11 university degrees of doctor
6 postdoctoral degrees
32 fields of study
74 cooperation agreements with foreign universities
70 specialities
92 student scientific groups
783 academic teachers
10 558 students
Contact
University Recruitment Centre
ul. M. Skłodowskiej-Curie 14, 15-097 Białystok, Poland
phone: +48 85 745 70 80, +48 85 745 70 53
e-mail: studyinuwb@uwb.edu.pl
e-mail: rekrutacja@uwb.edu.pl