University of Economics and Human Sciences
Akademia Ekonomiczno-Humanistyczna w Warszawie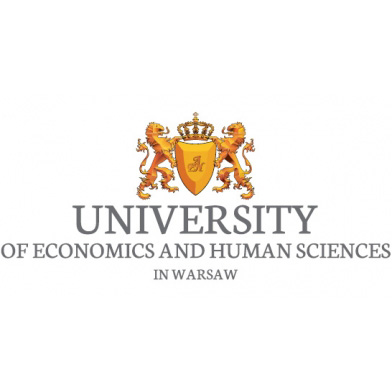 University of Economics and Human Sciences was founded in 2001. Since that time, UEHS has been developing and upgrading its offer for students. UEHS is located in Warsaw, the capital of Poland, nearby the city center, only 3 km away from the Central Railway Station and close to the Old Town – one of the most famous and popular places in Warsaw.
Campus. Our university offers a modern and spacious library, equipped with individual work stations, separate reading room and computer workstations with Internet access.
There are 7 computer laboratories in our building. Each lab is equipped with PCs with Internet access and software needed for conducting classes. There are also screens and multimedia projectors, enabling the audience to freely observe presentations prepared by lecturers.
Head office of the University has been running since 2003. Here you will find faculties, Library, Reading Lounge, Collegium of Postgraduate Education, Student Affairs Office, Recruitment Office, Students' Union, Bursary Office, Department of Information Technology, scientific research laboratories, computer labs, main lecture hall for 530 people, 2 halls, each for 260 people, 12 didactic rooms for 70-100 people, dozens of rooms to conduct classes and workshops.
Rankings.
Our academic staff ranks highly in Perspektywy national university ranking, recognized as the most popular and reliable educational ranking in Poland
We are the second most recognized private university in Poland with great job prospects (Premium Brand 2017)
1st position among Polish private economical universities (Polityka weekly)
Accommodation. As a part of development and "Studying, living, working in Warsaw" support program University of Economics and Human Sciences created Academic Housing Network (ASM).
We offer accommodation for Polish and foreign students. Apartments are located within 30 minutes from the UEHS. Every apartment has a shared kitchen (it can be used by roommates), bathroom, and toilet. Single, double, triple and quadruple rooms are equipped with basic furniture – beds, desks, wardrobes. ASM is currently offering 150 locations in 37 apartments.
Academic Career Office. ABK (Academic Careers Office) operating at the University of Finance and Management in Warsaw is a perfect solution for those who wish to gain experience and skills, and make some new contacts. There's no better way to get a free career counselling. ABK cooperates with psychologists, vocational counsellor, lawyer, it offers trainings that will help you improve your skills.
Programmes of study in English
BSc in Computer Engineering
BSc in Computer Graphic Design
BSc in Finance and Accounting
BSc in International Relation
BSc in Management
MSc in Finance and Accounting
MSc in Management
MSc in Psychology
Fields of study in Polish
administracja Administration
finanse i rachunkowość Finance and Accounting
komunikacja społeczna i PR Social Communication and PR
prawo Law
psychologia Psychology
współczesne stosunki międzynarodowe Contemporary International Relations
zarządzanie Management
Facts & figures
Established in 2001
Over 5000 students from 27 different countries
46 professors, 31 doctors
Contact
55 Pawia Street, 01-030 Warsaw, Poland
phone: +48 22 624 41 42
e-mail: enrollment@vizja.pl
www.vizja.pl www.ufm.vizja.pl