University of Bielsko-Biala
Akademia Techniczno-Humanistyczna w Bielsku-Białej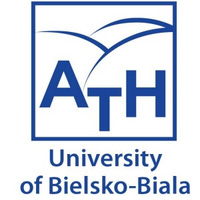 The University of Bielsko-Biala (Polish name: Akademia Techniczno-Humanistyczna w Bielsku-Białej) was founded in October 2001 as an independent governmental academic institution. Previously, since 1969, it had been a branch of the Lodz University of Technology (Politechnika Łódzka).The University is located in Bielsko-Biala.
Bielsko-Biala is a city of nature and a city of art, conveniently located in southern Poland, just 90 kilometres away from Krakow. The region called Beskidy after the Beskid Mountains which represents a meeting point of Poland, Czech Republic and Slovakia.
At present, about 6000 students (about 200 international) are studying at five faculties and number of experienced academic staff is constantly growing and currently there work about 400 teaching staff and other specialists, among them about 200 professors and doctors.
There are numerous services and facilities, which are offered by University of Bielsko-Biala and the city:
Career Services supports the channels of professional development of students and graduates. Its main tasks include: offering employment intermediary services, organization of trainings and workshops, human resource counselling, organization of meetings with employers and Job Fairs (Career Expo).
There is a dormitory, which can accommodate up to 200 students. It is popular among students, fully equipped living space with free Internet access.
Erasmus+ is a special programme put forward by the European Commission and aimed at enabling people to stimulate learning experience and help to develop the education and training sector throughout Europe. Each of students can apply to study or train abroad. The study period can last from one semester to even a whole academic year. Placements last minimum 2 months (up to 12 months within the same academic year).
And much more: Contemporary Art Gallery, which promotes works of young artists and students; Academic Business Incubator; numerous students' festivals, such as Juwenalia and The Beskidy Science and arts festival.
University of Bielsko-Biala keeps high standards of education by participation in the academic networks and their initiatives. University of Bielsko-Biala is a member of Silesian Universities Network (SUN) and International Relations Officies Forum (IROs Forum).
WHY THE UNIVERSITY OF BIELSKO-BIALA?
Openness to new ideas and opportunities
Participation in various European network projects
Cooperation with institutions from all over the world
Personal approach
Multicultural environment
Moreover:
friendly professors
well-equipped buildings
modern library
students' canteen and cafeterias
university's dormitory
The University of Bielsko-Biala is open to new ideas and opportunities to improve modern educational tools. Internationalization has become here the most important objective of the university being constantly promoted through its participation in various European network projects.
Facts & figures
Established in 2001
About 400 of academic staff
6 000 students
About 200 professors and doctors
More than 200 international students
Contact
Willowa 2, Bielsko-Biała
E-mail: international@ath.bielsko.pl
Phone: +48 (33) 8279-356
Website: www.eng.ath.bielsko.pl/

Recruitment form:
rekrutacja.ath.bielsko.pl/
Open from 14th of May 2018 for upcoming semester!