Uzbekistan 2023
 Join a unique fair of Polish Universities
– "Study in Poland"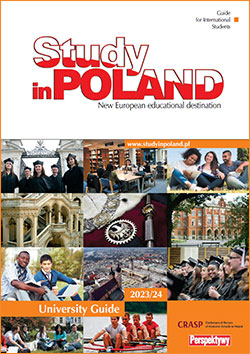 University Guide
download .pdf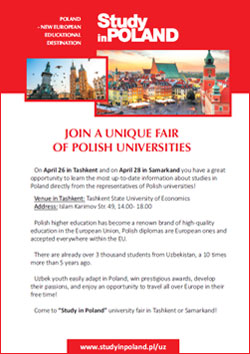 Invitation
download .pdf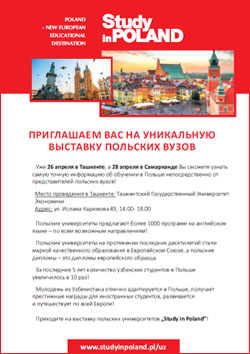 Приглашение
download .pdf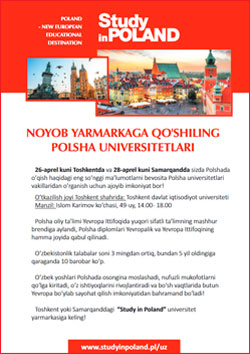 Taklif
download .pdf
On April 26 in Tashkent and on April 28 in Samarkand you have a great opportunity to learn the most up-to-date information about studies in Poland directly from the representatives of Polish universities!
Venue in Tashkent: Tashkent State University of Economics
Address: Islam Karimov Str. 49, 14.00 - 18.00
Venue in Samarkand: 28 April, 13:00 - 17:00,
Samarkand State Medical University, 18 Amir Temura Str.

Polish higher education has become a renown brand of high-quality education in the European Union, Polish diplomas are European ones and accepted everywhere within the EU.

There are already over 3 thousand students from Uzbekistan, a 10 times more than 5 years ago.

Uzbek youth easily adapt in Poland, win prestigious awards, develop their passions, and enjoy an opportunity to travel all over Europe in their free time!
At "Study in Poland" fair you will meet:
Come to "Study in Poland" university fair in Tashkent or Samarkand!

 Приглашаем Вас на уникальную выставку польских вузов
- "Study in Poland"
Уже 26 апреля в Ташкенте, а 28 апреля в Самарканде Вы сможете узнать самую точную информацию об обучении в Польше непосредственно от представителей польских вузов!
Место проведения в Ташкенте: Ташкентский Государственный Университет Экономики
Адрес: ул. Ислама Каримова 49, 14.00 - 18.00
Место выставки в Самарканде: 28 апреля, 13:00 - 17:00,
Самаркандский государственный медицинский университет, ул. Амир Темура 18
Польские университеты предлагают более 1000 программ на английском языке – по всем возможным направлениям!
Польские университеты на протяжении последних десятилетий стали маркой качественного образования в Европейском Союзе, а польские дипломы – это дипломы европейского образца.
За последние 5 лет количество узбекских студентов в Польше увеличилось в 10 раз!

Молодежь из Узбекистана отлично адаптируется в Польше, получает престижные награды для иностранных студентов, развивается и путешествует по всей Европе!
На выставке "Study in Poland" Вы встретите:
Приходите на выставку польских университетов "Study in Poland"!

Noyob yarmarkaga qo'shiling
Polsha universitetlari
26-aprel kuni Toshkentda va 28-aprel kuni Samarqandda sizda Polshada oʻqish haqidagi eng soʻnggi ma'lumotlarni bevosita Polsha universitetlari vakillaridan oʻrganish uchun ajoyib imkoniyat bor!

Oʻtkazilish joyi Toshkent shahrida: Toshkent davlat iqtisodiyot universiteti
Manzil: Islom Karimov ko'chasi, 49-uy, 14.00 - 18.00
O'tkazish joyi Samarqand shahrida: 28 aprel, 13:00 - 17:00,
Samarqand davlat tibbiyot universiteti, Amir Temur ko'chasi 18

Polsha oliy ta'limi Yevropa Ittifoqida yuqori sifatli ta'limning mashhur brendiga aylandi, Polsha diplomlari Yevropalik va Yevropa Ittifoqining hamma joyida qabul qilinadi.

O'zbekistonlik talabalar soni 3 mingdan ortiq, bundan 5 yil oldingiga qaraganda 10 barobar ko'p.

O'zbek yoshlari Polshada osongina moslashadi, nufuzli mukofotlarni qo'lga kiritadi, o'z ishtiyoqlarini rivojlantiradi va bo'sh vaqtlarida butun Yevropa bo'ylab sayohat qilish imkoniyatidan bahramand bo'ladi!
Toshkent yoki Samarqanddagi  "Study in Poland" universitet yarmarkasiga keling!